MegaDumper™ Heavy-Duty Industrial Bin Lifter
MegaDumper employs the same efficient tipping geometry as the well-proven Dumpmaster machines. They are available with cradles to suit a range of larger bins, including 660l, 1000/1100l wheelie bins, or square and rectangular bins. Attachments are available to enable multiple bin sizes to be tipped, for example a cradle for tipping 1100l bins can be fitted with auxiliary catches to enable all standard wheelie bins from 80 litres up to 660 litres to be tipped as well. No adjustment is required for tipping the different sizes – simply wheel the bin in and empty it!
MegaDumpers can be made to tip at any practical height. They normally have a hot-dip galvanised frame and cradle, with zinc-plated guarding. However, some or all of the machine components can be made from stainless-steel for use in hygiene-critical areas or harsh environments.
Features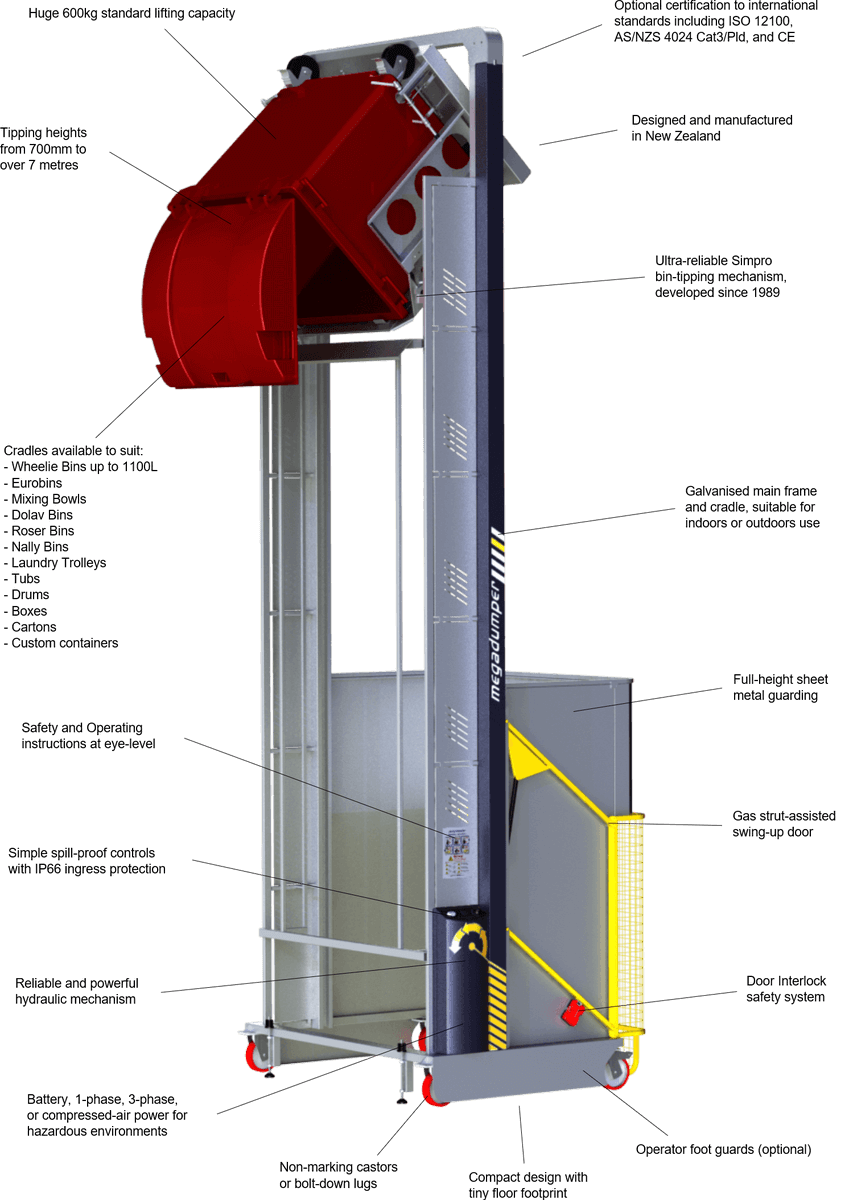 Options
Power supply: 1-phase, 3-phase, battery, or compressed air
Full or partial stainless steel construction
Corrosion-resistant nickel-plated lifting chain
Frame-mounted tip chute
Bin hook kit to secure machine in position
Cradles to suit any type of bin or drum
Swing-up, left-hinge or right-hinge door
Category-3 Safety Certification
E-Stop button and master lockout switch
Dual side covers and controls
'Door end' controls
Polycarbonate splash shield
Unbreakable PET-G guarding
25mm fine mesh guarding
Steel front guard panel
Foot guard panels
Certified door latch
Auto-cycle controller
Solar panel
Digital scales
Specifications
MegaDumper Specifications
Model (SKU)
MD1200
MD1500
MD1800
MD2100
MDXXXX (Custom)
Tipping Height
1200mm
1500mm
1800mm
2100mm
XXXXmm
Guarding Height
2635mm
Height
2855mm
3155mm
3455mm
3755mm
XXXX + 1655mm
Length (door closed)
1442mm
Length (door open)
1692mm
Width
1874mm
Weight
~325kg
~350kg
~375kg
~400kg
~XXXX * 0.08 + 230kg
Max Bin Weight
600kg
Cradle Compatibility
660L, 1100L wheelie bins (options: custom cradle)
Bin Throw
> 100mm
Electrical Specifications - Battery
2x 12v 21Ah sealed gel batteries in series configuration, driving 0.8kw DC motor drawing 60 Amps, with 24v DC control voltage
Electrical Specifications - Single-Phase
240v AC 50/60hz 1-phase mains supply, driving 0.75kw AC motor drawing 8 Amps via VSD (Variable Speed Drive controller), with 24v DC control voltage
Electrical Specifications - Three-Phase
400v AC 50/60hz 3-phase mains supply, driving 0.75kw AC motor drawing 1.9 Amps, with 24v DC control voltage
User Interface
Raise/Lower buttons, key switch, battery indicator, master lockout switch (options: E-stop button, VSD control joystick)
Ingress Protection
IP55 (options: IP56, IP69K)
Guarding
1.6mm sheet metal (options: transparent PET-G, 25x25x2.5 wire mesh, sheet stainless steel)
Corrosion Protection
Hot-dip galvanised frame, galvanised cradle, zinc-plated guards (options: stainless steel)
Door
Swing-up door with gas strut assist
Door Lock
Solenoid-operated electrical safety interlock
Wheels
⌀200mm Blue Resilex castors (options: ⌀100mm castors, bolt-down lugs)
Applicable Standards and Certifications
AS/NZS4024, ISO 13849-1, IEC 62061, Conformité Européene (CE), EN 349 1993, EN 574 1996+A1:200, EN 953 1997, EN ISO 4413 2010, EN ISO 12100 2010, EN ISO13849-1 2006, EN ISO 13857 2008, EN 60204 2006+A1 2009, EN61000-6-2 2005, EN61000-6-4 2007, Machinery Directive 2006/42/EC, Electromagnetic Compatibility Directive 2004/108/EC
Further Information is available on the manufacturer's website.