Ecolift 50Kg Manual Wheelie Bin Lifter
Safe lifting capacity of 50kg

Lifts 80L, 120L, 140L and 240L bins

Simple manual crank handle operation

Fits through internal doors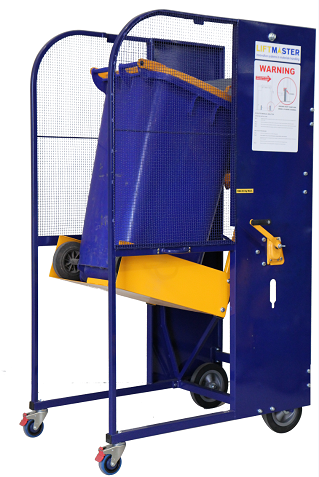 The Ecolift 50 is a manual crank handle operating unit that aids in the lifting and emptying of wheelie bins into dumper bins.
The Ecolift 50 is the ideal unit for anybody who has to lift light weights infrequently. Designed to lift up to 50kg at a time, the Ecolift is perfect for schools, small offices and local councils that dispose of paper waste and are required to empty the wheelie bin once or twice a day. The Ecolift eliminates all lifting from the process of empting wheelie bins into larger dumper bins. The bin is lifted by simply manually rotating the crank handle. The user is protected against costly back injuries.
The Ecolift 50 is designed and manufactured in Australia using the highest quality components. The dimensions of 1202L x 798W (including crank handle) x 2002H ensure easy storage and the castors allow for effortless mobility. The frame has a powder coated finish for weather resistance.