About Us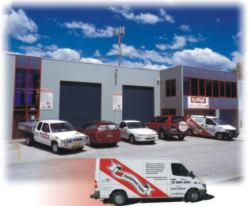 Established in 1993, ASK Equipment Sales quickly set the benchmark for superior service to customers in a broad and diverse range of markets and during this period, we are proud to have developed a large and loyal client base including companies listed in the "Top 100 Companies" in both Australia and overseas.
ASK Equipment Sales opened a branch in Queensland in 2004 and long time employee, Roland Brown was given the task of establishing new customers in Australia's fastest growing State.

After two years in Queensland, a new company was formed: ASK Equipment Sales (QLD). In October 2006, Roland bought the newly established company from the previous owner Clive O'Connor and continues the great name of ASK which has become synonymous with professional, friendly and personalised service which has led to establishing a strong, loyal customer base.
ASK Equipment Sales (QLD) is now specialising in the supply of Wheelie Bins and the larger 4 wheeled bins and associated accessories as well as a host of other products as listed below.
Wheelie Bin Locking Posts. Wall Mount, Bolt Down, Concrete In
Bin Lifters - 120Lt to 660Lt
Wheelie Bin Lid Openers
Bauer Type Couplings
Pneumatic Chain Saws
Hose - Suction & Layflat Delivery - Rubber - PVC
Industrial Fans - Pedestal & Wall

Mancoolers & Soft Layflat Ducting
Bin Lifters & Bin Tippers
Wheelie Bins all sizes and colours
Bailers – Cardboard- continuous
Pumps – Petrol & Diesel powered - end suction
Pumps – Fire Fighters

Jarvis Industries PTY LTD being the Trustee for R & L Brown Trust Trading as ASK Equipment Sales (QLD) ABN 39 742 743 805